These tapestries come from French and flemish workshops whose during this era made up several thousands tapestries.

Verdure aux Échassiers XVIs Beauvais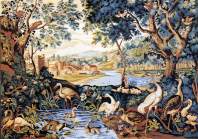 Diane, Scipion, Alexander from Macedonia, Ulysse & François Boucher tapestries suite, illustrate prety well the infatuation of this century for antique heros where

Classic Tapestries

loves of gods combine admirably with the refined surroundings scenery of Maurice Jacques.

Verdure aux Dianes XVIIIs Beauvais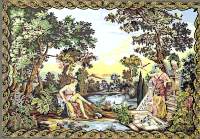 By its happy themes, its vivid and splendid shade, the tapestry was perfectly in harmony with the spirit of the society of the XVIIIth century all penetrated by decorative adaptations.
Classic's Century style



Year 1597, Henri IVth opens a manufacture in the house of the professes Jesuits to the Paris suburb Saint Antoine quater.

Aristoloche XVIIem. Angers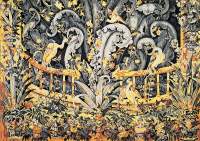 Charles Le Brun

François Boucher
Verdure aux Oiseaux. Audenarde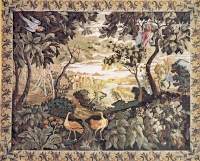 Siècle des Lumières
All long XVIIth & XVIIIth the Professe house gains rapidly an international reputation, just as Gobelins, Beauvais, Amiens, Tours, Cadillac, Aubusson or Felletin.

Romantique Tapestry XVIIth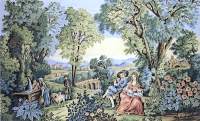 These two last center of low wrap loom are sometime named "à la marche"

Cartonnier Master

this is not because they should be bound in the Marche county but because the low warp loom use kind of treadles (marche in french) which the weavers manipulate with their feet.

Vie Champêtre XVIIIem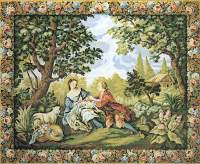 Proposing their models, painters of this period gave to the tapestry the means to honor its first intentions, namely to enjoy and delight.